TOWER LIGHTS & GENERATORS
If you need portable lights, look no further than Premiair Plant Hire & Water Jetting Services Ltd in the Wirral. We offer construction lights for hire to customers in the Greater Manchester area and across the North West.
Lighting Towers for all projects
If your industrial or commercial project involves working after dark, we can provide you with bespoke lighting solutions. With a variety of high-intensity lighting systems, it'll be easy for your workers to carry out the work in the night. As these construction lights are mobile, it is easy for you to move the lighting systems across the site whenever needed.
The lighting systems are made using high-quality materials and are very durable for use in different weather conditions and environments. For more details, talk to our team today!
Additionally, you can contact us for a variety of air units and water jet tools, including compressors, and breathing apparatus.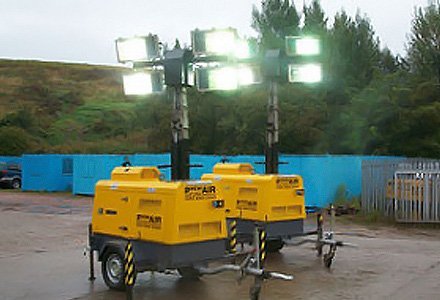 Need a reputable plant hire company?
If you're looking for a plant hire company in the Merseyside region or the Greater Manchester area, contact Premiair Plant Hire & Water Jetting Services Ltd in the Wirral on 0151 643 0333